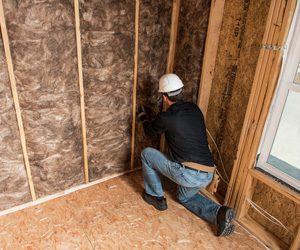 B&M Insulation has vast experience in insulation for existing homes and new home construction. Our team is competitive, responsive and delivers professional installation on each job. Whatever your project needs, you'll know you're receiving top quality installation and service from a quality local company. We've been serving builders, remodeling contractors and homeowners throughout Middle Tennessee since 1976.
Monthly utility bills can be a burden. Many homeowners would like to reduce their energy bills but aren't sure of the best steps to take. It's also believed that high energy bills are a way of life because having an energy efficient home is too pricey. Upgrading attic insulation and sealing air leaks is a cost-effective and high performing energy solution for any home. Upgrading attic insulation can pay off with lower energy bills as soon as the first billing cycle following installation.
Heat flows naturally from a warm space to a cooler space. During winter, heat flow moves from heated living spaces to unheated attics, garages, and basements, or to the outdoors. It also can move through other areas where there is a temperature difference including interior ceilings, walls and floors. During summer, heat flows from outdoors to a home's interior. To maintain comfort, the heat lost in winter must be replaced by your heating system and the heat gained in summer must be removed by your air conditioner. Insulating ceilings, walls and floors decreases this heat flow by providing an effective resistance to the flow of heat.
At B&M Insulation we install fiberglass insulation which comes in several forms and can offer a great array of benefits when installed properly. If you prefer a non-fiberglass alternative, cellulose insulation may be the right choice for your home. Whatever your choice, our trained installers will make sure the job is done right.
We are committed to bringing our customers energy efficient home insulation solutions to help them save money and stay comfortable year-round. We insulate and seal air leaks to help homeowners achieve high energy performance. Learn more about the advantages of insulating and air sealing and schedule a free estimate!
What Is Air Sealing?
Air sealing is the first step in any insulation project. Air sealing involves blocking off sources of air leakage in the building's envelope. When air is able to escape through penetration points around areas such as light boxes, soffit drops and windows, your home's energy system has to work harder to maintain your home's interior temperature. Air sealing closes these penetration points to help conditioned air stay inside the home to save energy and money.
There are several advantages to having your home professionally air sealed. An experienced insulation contractor knows where to look to find sources of air leakage you may not consider. An air sealing professional will also be able to recommend the proper method to seal air leaks in your home and be able to perform air sealing with a high level of precision.
If you are considering adding insulation to your home, it's important to hire a professional to handle the job effectively and efficiently.
When you work with B&M Insulation you're choosing one of Middle Tennessee's top insulation companies. Serving Middle Tennessee's insulation needs since 1976, our goal is to provide a professional, top-quality insulation services for customers.