Custom Mirrors in Murfreesboro, TN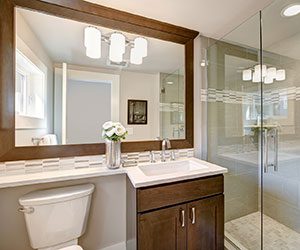 Are you looking for a great way to make a room look open, bright, and stylish? Installing a custom mirror is a great way to add personality to your home. Custom made mirrors add brightness and can make every room in your house feel much larger.
Whether you are building a new home, remodeling, or just looking to update a room, B&M Insulation can provide you with the custom wall mirror that fits your needs.
We fabricate all mirrors in our own shop. We are one of the few custom mirror fabricators that performs pencil edging. This gives your mirror that perfectly smooth and finished edge—just like a car window. We also apply specialized glass sealant to the back of the mirror. This prevents moisture from getting behind your custom mirror, extending its life by several years.
Our expert staff is trained to give you a professional wall mirror installation that gives your home a whole new look. You can rest assured knowing your mirrors are safely and securely hung.
Custom Frames
Want your custom mirror to look even better? Add a custom frame.
Easy Frame from Precision Frameworks adds a finished look to your mirror for more impact and visual appeal. Not only will you have a custom frame to fit your exact space, but you'll also have a finished look that you'll love! Just choose your frame and we'll add it to your custom cut mirror! It's that simple.
Contact us to discuss your custom mirror project.
Project Ideas