Cellulose Insulation Services in Murfreesboro, TN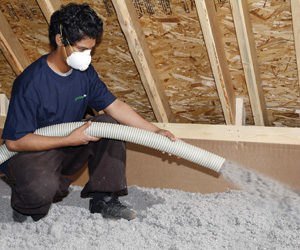 If you are looking for a non-fiberglass insulation alternative, cellulose insulation may be the right choice. Made from recycled newspaper, cellulose insulation has gained popularity as the best insulation for walls and attics in the past few decades. It can be used in similar ways to blown-in fiberglass insulation and can be dense packed into closed cavities and blown into attics. At B&M Insulation, we offer superb insulation solutions through our cellulose insulation services in Murfreesboro and Nashville.
What Is Cellulose Insulation?
Cellulose insulation is typically made from recycled newspapers and other waste paper products like cardboard and office paper. It may sound like a fire hazard, but rest assured, our blown in cellulose insulation is treated with a fire retardant during manufacturing to reduce that risk. It will not actively catch fire if exposed to flame.
Cellulose insulation typically comes as loose fill insulation. The installation process, therefore, involves using an insulation blower to install blown in cellulose insulation into attics or walls, allowing the cellulose to settle in and fill the spaces.
When you work with B&M Insulation, you are choosing one of Middle Tennessee's top insulation companies. Our expert team goes above and beyond to explain our types of insulation and help you choose the best home insulation for your home.
Our cellulose insulation services in Murfreesboro and Nashville have been serving Middle Tennessee's insulation needs since 1976. Our continuous goal is to provide professional, top quality insulation services for our customers. Contact us for a free estimate today. We look forward to talking with you about the best types of insulation for your home.
More to Know About Cellulose Insulation
You may have heard about the growing popularity of cellulose insulation and its many energy saving benefits such as reducing your carbon footprint, lowering your heating and cooling costs, and providing quality sound control. Here are a few more things to know about this effective insulation choice:
It has a Class 1 flame spread rating and contains active fire-resistance materials to provide durable and excellent fire resistance.
It is resistant to mold growth and works to dissipate moisture for moisture management.
It does not contain asbestos or formaldehyde.
It is ideal for insulating older homes and adding R-value and filling gaps over existing insulation.
It is safe to touch and won't irritate unprotected skin.
It won't settle in sidewalls but will settle in attics until it reaches a stable density, similar to other blown insulation. All thermal performance testing is done at the settled thickness.