Cellulose Insulation Services in Murfreesboro, TN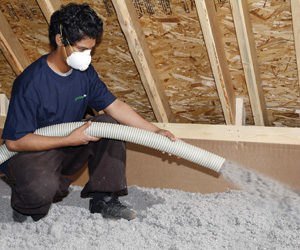 If you're looking for a non-fiberglass insulation alternative, cellulose insulation may be the right choice. Made from recycled newspaper, cellulose insulation has gained popularity in the past few decades. It can be used in similar ways to blown-in fiberglass insulation. It can be dense packed into closed cavities and blown into attics.
What is Cellulose Insulation?
Cellulose insulation is typically made from recycled newspapers and other waste paper products like cardboard and office paper. While filling your walls with paper products may sound like a risky choice in the event of a fire, cellulose insulation is treated to reduce that risk. During manufacturing, cellulose insulation is treated with a fire retardant so it won't actively catch fire if exposed to flame.
Cellulose insulation typically comes as loose fill insulation. The installation process, therefore, involves using an insulation blower to blow cellulose insulation into attics or walls, allowing the cellulose to settle in and fill the spaces.
When you work with B&M Insulation you're choosing one of Middle Tennessee's top insulation companies.
Examples of recent projects: