Rain Gutter Installation in Murfreesboro, TN
Considering the adverse impact water damage can have on your home, the importance of proper gutter installation cannot be overlooked.
Water damage can wreak havoc on your home. Not only can it cause mold, but it can also compromise the integrity of building materials. Choosing gutters isn't usually the first thing people think about when building or remodeling a home. But with an understanding of the risk potential, gutter installation is one of the most important investments you can make to protect your home from water damage.
Professional rain gutter installation saves time, prevents headaches, and helps ensure your home will be properly protected. As a premier gutter installation contractor, we have the knowledge and experience to properly install your 5" to 6" home rain gutter system.
A rain gutter system is a vital part of your home's functionality. Proper gutter installation prevents damage that typically starts around the roof and can eventually affect the fascia, soffit, and foundation of your home. When water pools on the ground because your gutters and downspouts aren't working properly (or are nonexistent), or the elbows aren't secured tightly (or even pointing the wrong way), your home's foundation can be impacted. Channeling water away from your house helps maintain structural integrity.
You just might be able to avoid thousands of dollars in future home repairs—while also adding character to your home. With the variety of colors and styles of rain gutters, corner pieces, and downspouts, your rain gutter system can enhance the look of your home.
Leaf Guard Gutter Systems
In addition to rain gutters, we install gutter leaf guard systems. Many homeowners dread cleaning their gutters—removing the debris is messy and can be dangerous. You can prevent the need for gutter cleaning and avoid the risk of accidents by adding a leaf guard gutter system to your home. Our team can install a leaf guard gutter system to meet your needs.
Contact B&M Insulation for a gutter installation estimate today!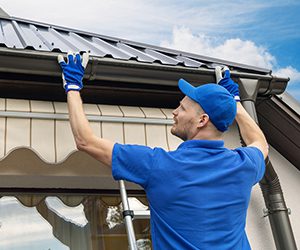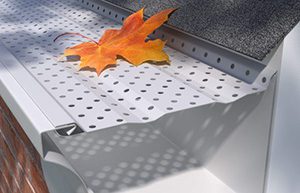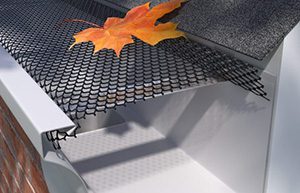 Gutter Installation Projects Gallery