Fiberglass Insulation Contractors in Murfreesboro, TN
When most people think of insulation, the first thing that pops into their head is the cotton-candy-like fiberglass insulation. The most common and widely used type of insulation on the market, fiberglass insulation is made from melted sand, which is spun to give it that wispy appearance. Then, it is either cut into specific batt insulation sizes to fit into framing or used as a loose filler to be blown into larger spaces. Fiberglass batt insulation is primarily made of recycled materials, and it is used for insulating floors, walls, ceilings, and attics.
Since fiberglass batt insulation needs to be properly installed to maximize performance, it is always best to call on the experts at B&M Insulation, your Murfreesboro fiberglass insulation contractors. With the best fiberglass insulation services in greater Nashville, B&M Insulation provides quality services and customer care. We take pride in the quality of our work and are always happy to provide sound advice and answers to your questions on all insulating options for your home.
Benefits of Fiberglass Batt Insulation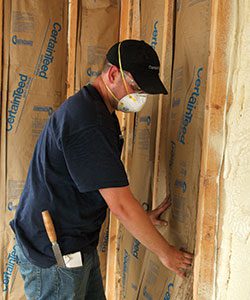 Whether you are working on a small residential project, a large office, or commercial buildings, fiberglass batt insulation is a great solution. It is available in widths suited to standard spacing of wall studs and attic or floor joists.
When properly installed, fiberglass batt offers a variety of great benefits, including:
Helps create a year-round comfortable living space
Is more affordable than other forms of insulation
Helps improve the energy efficiency of your home
Helps reduce heating and cooling bills
Provides effective noise control
Has excellent acoustics
Is noncorrosive
Does not absorb moisture
Unfaced batts are noncombustible
Won't settle over time
Is lightweight
Is certified for superior indoor air quality (IAQ) performance
Has an R-value (insulating power) of 3.1 to 3.4 per inch of thickness
Blown-In Fiberglass Insulation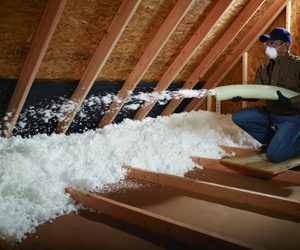 One of the best ways to lower energy bills is to start at the top. Attics are susceptible to air leaks and may have inadequate insulation levels. Insulation for attics made of blown-in fiberglass adds the thermal resistance needed to help keep the conditioned air inside your home from escaping. This one simple step can significantly reduce your heating and cooling costs! Blown-in fiberglass insulation can be installed in nearly any space or densely packed into closed cavities including:
Garage ceilings under heated areas (where a room is above a garage)
Interior walls for sound control
Dense packed into existing exterior walls
Between floors for sound control
Upslope areas in attics
If you want to keep your home comfortable all year long and see a significant drop in your energy bills, schedule a free estimate with the B&M Insulation team for fiberglass insulation services in greater Nashville. Our fiberglass insulation contractors in Murfreesboro will take the time to inspect your home and pinpoint any insulation deficiencies and make recommendations, so you can make an informed decision about the best choice of insulation for your home.
Our Middle Tennessee community has trusted us with their insulating needs since 1976. We look forward to earning your trust as well.