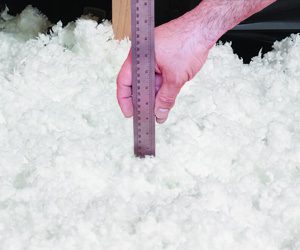 If you own an older home, your attic may need more insulation. Today's building codes may be different than when your home was built. Even if your home is newer, your attic may be under insulated. Your insulation may have settled. A strong wind entering your attic through your soffits may have compromised your insulation. These factors and many others can result in your spending more money on energy bills than is necessary.
To ensure proper thermal protection, today's building codes require 13″ to 14.5″ of insulation (equivalent to R-38). Want to check your attic? Here's how:
Open the access point to your attic. This may be found in the ceiling of a closet, a bedroom or the garage. If your home has two different rooflines (one section of the roof pitches one direction, the other section pitches another direction) be sure to find the access point for each.
Place a tape measure into the attic insulation with the one-inch mark at the bottom and make a note of insulation depth. Check that your insulation is at the proper level (13″ to 14.5″ of insulation).
Call us and tell us the results. We are happy to schedule a time to double check the depth and provide an estimate to upgrade your insulation.
Adding insulation to your attic will increase comfort and reduce your energy bills. Have other questions about energy efficiency? Contact us – we're happy to help!