Updated September 5, 2023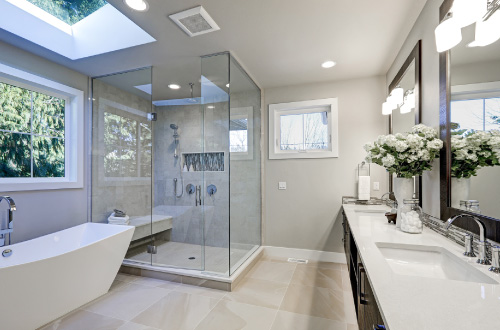 Bathrooms are no longer an afterthought to your home's design. Gone are the days of dark, small spaces with a boring sink, tight shower, and flower shaped air freshener for beauty and function. Homeowners today are realizing that their bathrooms are an integral part of their home and well-being. Builders and renovators are putting as much thought and money into the design of a home's bathrooms as the kitchen.
Designer and author Barbara Sallick expects there to be an uptick in interest in more color, texture and pattern in washrooms while designer Gray Walker feels the trends in 2023 will focus on beautiful stone, texture, special hardware, and sleek lighting.  Let's look at what bathroom design trends, both old and new, we can look forward to in 2023.
Create the Perfect Escape
Bathrooms are becoming the perfect escape and more thoughtful design is being put into them. The biggest trend in bathroom design is their transformation into the ultimate retreat. The stresses of life take their toll on us daily. Whether it's working long hours, taking care of children or aging parents, we juggle many things. But seldom, do we have time to pause and reflect.
In recent years, many homeowners have learned the importance of "me-time" and self-care, and they want their bathroom to be an oasis away from the stresses of life and work. Instead of a small place to lock yourself away with a newspaper for a few minutes of peace, bathrooms are becoming mini spas where occupants want to loiter for hours.
The expectation of creating a "cocooning effect" where one can wrap themselves in comfort and quiet and feel a sense of luxury, has become the trend for modern bathrooms. A bathroom has become a place to linger, a simple powder room no longer. Many homeowners are looking to expand their washroom's space for more accessibility and a more relaxing feel. Looking to the future, homeowners are also interested in enhancing their bathroom to allow for seamless aging in place capability.
Designing a personal haven is unique to each person's preferences and budget. Creating a sense of luxury and convenience may entail candles and a warm robe for some and massaging showers, hydrotherapy baths and state-of-the-art technology for others. The important thing is to remember to be true to you and your style.
Express Yourself Through Interior Design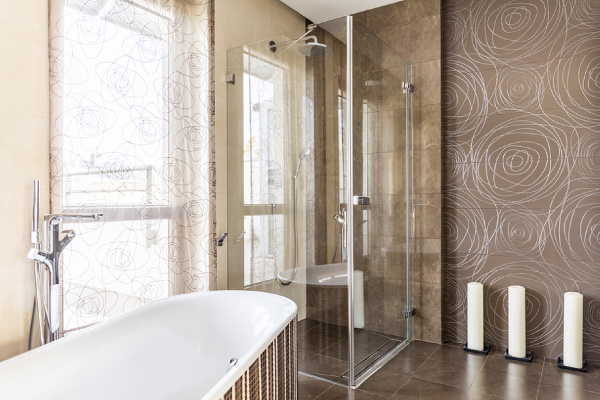 When designing or renovating a bathroom, every area needs to be considered, from floor to ceiling. The interior design should reflect you and your preferences. Whether a guest bathroom or your master bath, don't be afraid to be bold and experiment with pops of color and different wall tile.
Here are some popular interior decorating trends to consider:
Color, color and more color
A white bathroom will always be in fashion and is a proven way to quiet the mind and soothe the soul, but don't be afraid to add color to your bathroom. Beyond the walls and floors, you could add a splash of color on the plumbing and lighting, anything from intense jewel tones to soft pastels.
Add drama
Be bold with dramatic wallpaper and dark paint. This works especially well for a small bathroom that is the perfect place for a special, memorable, and bold design scheme that won't overwhelm the tiny space.
Count on the classics
If you're not quite ready to go for bold, it's ok to stick to the classics in bathroom design as well. A simple herringbone pattern tile floor or a comforting blue and white color combination will always be a winner. Even contrasting classics such as matte black subway tile and white marble make for a tried-and-true combination.
Use textiles
If you have an old home and want to keep your original floorboards, you could lay an antique bathroom rug or water-resistant performance rug made from polypropylene or recycled plastic on top to make the bathroom feel warmer.
Blend styles
Don't be afraid to fuse vintage and modern styles in your bathroom. Be confident in creating a bold and busy bathroom. Create a spa-like sanctuary with intricate murals and bring the outside in with biophilia. Have fun with pattern mashups and don't be afraid to mix up wallpaper and tile. Experiment with that floral wallpaper and marble tile to create the bathroom you desire.
Add patterned drapery and window treatments
Since bathrooms are full of hard surfaces, you can soften the space and add warmth with window treatments. Not only will this extra touch add beauty to your bathroom, but they also provide privacy from the outside world. Look for moisture resistant material that will last and not mildew.
Creative storage solutions
As people spend more and more time in their bathroom and the trend for larger bathrooms seemingly continues, creative and thoughtful storage solutions are gaining popularity. More thought is being put into creating unique, convenient and often artistic ways to store towels and accessories.
Make a statement with tile
Look for complex and interesting bathroom floors in 2023. Consider installing a mosaic in a custom pattern or colors to make the floor a focal point.
Functionality and Efficiency with Flair
Beyond color schemes and wallpaper, homeowners and builders are putting extra thought into prioritizing functionality and efficiency in a bathroom's design. The average lifespan of a bathroom is a decade, although with proper care it can last much longer.
Here are some popular ideas for the new year:
Naturalistic vanities
Interior designer Sarah Cole encourages homeowners to embrace the warmth and organic element that wood offers over a painted finish, including the more complex materials palette. Choose a wood that is durable enough for the bathroom, such as teak, bamboo or hardwoods, to create a simple plank shower floor, a floating vanity, an accent wall, natural wood cabinetry, or even flooring.
Make a statement with stone
The uniqueness of stone makes natural stones, such as marble or quartzite, a way to create a one-of-a-kind space and express a homeowner's personality while elevating the room.
Bold basins and consoles
Aesthetics, functionality, installation, and budget all play a part in choosing the perfect sink. In the new year, creativity will be the standard, with clever spins on classic white ceramic basins featuring ripples, 80's pastels, and gold rims. Homeowners are experimenting with new materials for their basins instead of ceramic, such as glass, concrete, pressurized surfaces, and mineral cast basins.
Update with technology
Smart technology, such as home automation, is here and it's becoming a standard in updated bathrooms. The possibilities are endless: integrated charging and USB ports, LED temperature displays, automatic hand-wipe sensors, heated floors, moisture and temperature controls for showers and flooring, voice apps, and smart toilets/bidets. Home automation allows your home to work better for you and puts you in control of your bathroom.
Choose the best shower door system
Many homeowners have chosen to remove their bathtubs and focus on designing an ideal shower for their wash space instead or trading in their traditional shower curtain for elegant glass shower doors. There are several types of showers to choose from: a pivot door type with conventional hinges, sliding doors, or a simple walk-in shower set-up without doors.
Create a dramatic eye-catching look and help prevent water damage with the right shower doors. Customizing your shower doors with reeded glass or bold colors can create an extra luxurious feel. And be sure to choose a shower head that matches your water system. For low pressure systems you will want a smaller shower head.
Take a seat
As the demand for a home retreat grows, many homeowners are looking for showers that are more than just functional but are beautiful too. Larger shower spaces are on the rise, including showers for two with double shower heads. Seating also adds another level of comfort. A comfortable stool or attached bench inside the showering area is the ideal addition for a revitalizing shower experience.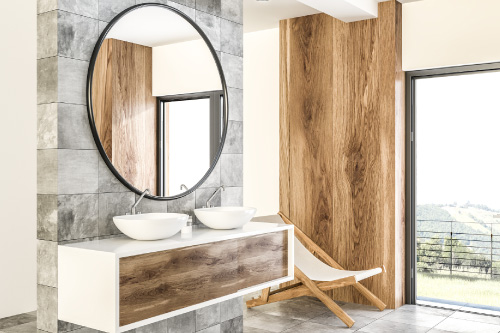 Add depth with mirrors
Adding a custom mirror with a custom frame to the wall of your renovated bathroom is a sure way to create the feel of a larger space by making the room look open and bright, while adding a reflection of your style and personality.
Use metallic elements
Consider using warmer metallic tones, such as copper and brass, to create visual impact and change the mood of your bathroom from functional to indulgent.
Personal luxuries
Many homeowners are choosing to invest in personal luxuries such as warming drawers for towels, steam showers with all the bells and whistles (including chroma-therapy lights and music speakers), luxurious natural stones, and infrared saunas. Well-designed organization is also popular, with hair stations, specialty make-up mirrors and more.
Take a minimalist approach
Many homeowners want to focus on a simple bathroom that is functional and inviting. Taking a minimalist approach does not mean you have to give up quality or beauty though. Explore creating a space of clean lines, clutter-free counters and smart cabinetry with your own personal touches.
Committed to Our Murfreesboro Community
Designing a new bathroom can be both exciting and overwhelming. Ultimately, creating the perfect bathroom for your home comes down to deciding what elements are the most important to you and your family.
At B&M Insulation we are committed to providing only the best shower doors and bathroom accessories at an affordable price to our Murfreesboro community. We are here to help you create the ideal bathroom for your home with the highest quality shower doors and bathroom accessories paired with our expert customer service and installation. Contact us today to learn more and allow an expert member of our team answer your bathroom renovation questions.