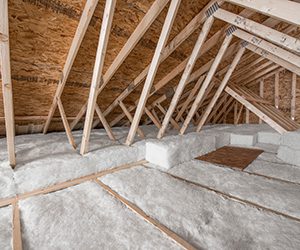 Simply put, insulation is material used to stop the heat transfer. Insulation helps keep your home's desired temperature all year round. It protects against heat in summer and cold in winter. A home that is well insulated is also energy efficient. Insulation can also be beneficial in reducing noise transfer.
Modern homes are insulated to current code, but older houses may have minimal or no insulation at all. Most homes can benefit from upgraded insulation or other insulation enhancements to increase home performance.
There are various types of insulation consisting of different materials and qualities.
Fiberglass insulation is made from recycled materials and offers great benefits at an effective price point. It can be used to insulate nearly any space and can be used to reduce sound transfer between spaces. Blown-in fiberglass insulation is effective for attics, garage ceilings, exterior walls and between floors. Combined with air sealing, fiberglass insulation can significantly reduce your energy costs.
Cellulose insulation is made from newspaper and recycled paper products. Installed as a loose fill product, it is commonly used in open spaces like attics. It can also be dense packed into closed cavities.
Spray foam insulation adds R-value and seals air leaks in one step. It expands to completely fill cavities and prevents conditioned air from leaving the home. It can also prevent the infiltration of pollen and other allergens to help improve indoor air quality. Spray foam insulation comes in open cell and closed cell types.
For more information about what kind of insulation to use for your project or older home, contact the experts at B&M Insulation. We are always happy to answer your questions.