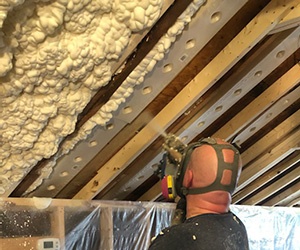 Spray foam insulation is an energy efficient building insulation product that adds R-value to homes and businesses. Did you know that spray foam also seals air leaks? This additional benefit is an important part of energy efficiency.
Air sealing is the process of reducing penetration points that allow air to enter and exit a building. Sealing air leaks is an important step to lower energy costs, reduce drafts, and enjoy a more comfortable interior environment. Air sealing also helps keep out pests, prevent allergens, and improve your home's overall air quality.
When a building envelope is not air sealed outside air enters and conditioned air leaves the house. For years, it was believed that air leaks created proper home ventilation. Today's building science proves this isn't the case. Uncontrolled air leaks can cause too much or too little air to enter or leave the home. Sealing air leaks, adding mechanical ventilation, and adding insulation are three key steps to improve energy efficiency. Spray foam insulation is a perfect solution to both insulate and seal air leaks.
Spray foam insulation expands when applied and completely fills a cavity. The product is applied as a liquid and expands to 100 times its volume. This means that the product fills cracks and crevices in a cavity, and expands to seal these gaps. Your home is insulated and air sealed with one application.
Interested in learning more about spray foam and getting an estimate for your next project? Contact us today and learn more.